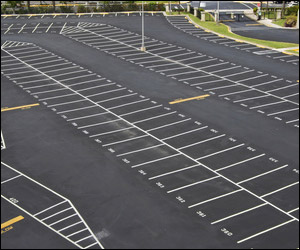 Reis has paved asphalt parking lots for a wide variety of unique clients, including new developments, strip malls, restaurants, churches, schools, large shopping centers and apartment complexes.
Parking lots can be created brand new, either from scratch in an area where there is no asphalt presently, or following excavation to create a brand new parking lot where one once stood. Other options include resurfacing, which is the most widely used service for existing parking lots, and patching, which is used on specific areas of your existing asphalt.
Creating a New Asphalt Parking Lot
With a brand new parking lot, Reis will first establish a foundation, design a drainage plan, and pave 2 coats of asphalt.  We understand the importance of keeping your business open and will work in sections to keep your business flowing.
Please see our page on "New Pavement" for detailed information about this process.
Resurfacing Parking Lots
This overlay method is ideal for asphalt parking lots for a couple of reasons. Resurfacing a parking lot will allow for it to be ready for high traffic use faster than a complete reconstruction and it is also more cost-effective. Reis Asphalt understands the importance of keeping a business accessible to customers. We strategically overlay commercial or residential parking lots in sections to ensure that customers are able to access other sections of the lot at all times. Due to our crew's extensive experience and knowledge of working with asphalt parking lots, we are able to get the job done in a professional and efficient manner.
Please see our page on "Resurfacing Asphalt" for detailed information about this process.
Patching Asphalt
This method is ideal for asphalt parking lots that need repairs for situations such as cracking, edge damage, sunken areas, low spots, sagging or potholes. While not all parking lots are eligible for patching, most can achieve the desire results either by surface patching, infrared thermal bond patching or by excavating and removing the existing asphalt and replacing the damaged section with new asphalt. Other uses of patching techniques can be to expand an existing parking lot that is in good condition to allow for additional customers. The existing asphalt is sawcut to make a uniform and smooth transition between the older asphalt and the new section.
Please see our page on "Patching Asphalt" for detailed information about this process.
Call Reis for Solutions to Your Parking Lot Problems
Whether you need a brand new asphalt parking lot, need basic repairs or are interested in expanding your parking area, Reis Asphalt, Inc. can offer sound advice and fair pricing. Located in Dartmouth, Massachusetts, we service customers all throughout the Southcoast region and can give you options that will suit both your needs and your budget. Contact us direct through our online form or by calling us locally at 508-996-0735.