John Ruskin, a prominent thinker and philanthropist wrote a meditation on price in The Common Law of Business Balance, saying: "There is hardly anything in the world that someone cannot make a little worse and sell a little cheaper, and the people who consider price alone are that person's lawful prey." He went on to say that it is "unwise to pay too much, but worse to pay too little," noting that when we overpay we "lose a little money," but when we pay too little we can "sometimes lose everything, because the thing you bought was incapable of doing the thing it was bought to do." According to Ruskin, the common law of business balance prohibits paying a little and getting a lot, saying that it just can't be done. In other words, you get what you pay for.
We appreciate this school of thought at Reis Asphalt,
Our motto is to get the job done right, the first time.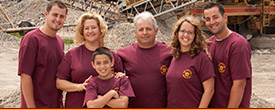 Our goal is to install driveways that will serve our clients for many years to come. The Reis family plans on continuing to provide professional, quality asphalt and landscaping services in Massachusetts for many generations, so we will be here when the time comes again to do your next driveway twenty or more years down the road. Most of our business comes from referrals and repeat customers- that speaks volumes about our quality.  Our customers can trust that any service we do will exceed their expectations and that we will go above and beyond to create a durable product that will look good and last for many years. Friends of the Reis family, understand what we mean by going overboard with durability, everything with the Reis family related to work or personal life is "industrial strength"…there are lots of funny stories to go along with this!
Fair Pricing
Our pricing structure at Reis Asphalt is fair and we always give you the best value for your hard earned dollar.  We realize that a driveway or parking lot is an important investment for our customers.  We estimate all of our projects according to the amount of high-quality materials, careful construction and equipment required to accurately create a beautiful end result that will stand the test of time. At Reis Asphalt, educate our clients about the installation process so they can know exactly what they will get through our services.
Call us today at 508-996-0735 or CLICK HERE to use our online form. We will set up an appointment and complete an estimate of your next asphalt or landscaping project at your earliest convenience.