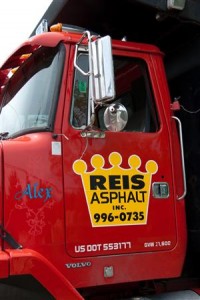 The Top 10 Reasons to Choose Reis Asphalt, Inc.
#1 – We guarantee the quality of our workmanship – in writing.
#2 – The owners will be on site during the job to ensure and a job well-done and customer satisfaction.
#3 – Our team of professionals have over 100 combined years of experience working in the asphalt and landscaping industry.
#4 – We use state-of-the-art equipment, combining modern technology with old-fashioned values, such as experience, knowledge and ingenuity.
#5 – We are a full service outdoor contractor, offering a variety of asphalt and landscaping services to transform your whole yard in one day.
#6 – We provide prompt, fair and accurate estimates to our residential and commercial clients on the spot.
#7 – We were "green" long before other businesses worked to preserve the environment, recycling almost every type of material we use including asphalt, concrete, oil, metal and trees in our own recycling plants.
#8 – We are a Massachusetts family owned and operated business headquartered right here in Dartmouth.
#9 – Most of our business is based on referrals and positive online reviews.
#10 – We've been in business over 28 years, serving the needs of our customers throughout the Southeastern Massachusetts region.

Don't Take Our Word For It… Research and Read More!
Ask around town – we are very proud of our solid reputation and long list of satisfied customers!  Go ahead – Google our name and read the online reviews posted by our satisfied customers. We are a member of the New Bedford Chamber of Commerce .  You can also read more about us in a feature article from the April 2010 issue of Soco Magazine.
We can provide you with a listing of driveways that we've installed that are 25 years old, as well as driveways that we have just recently paved. Personal references are also available upon request.
Give us a call at 508-996-0735 or use our online contact form to find out more about all of the services offered at Reis Asphalt, or set up an appointment for a professional consultation from one of the Reis family members. We will give you an estimate and help you choose the products and solutions that are right for you and your home or business.



You can also add your own here.
Name or Initials
LEN
City
Dartmouth
Testimonial
We are quite happy with our decision to chose Reis Aphalt to replace and pave our driveway and sidewalk we'd had since 1975.
We can highly recommend them.The two brothers Brian and Derek and their entire crew worked very hard during their job but at all times were courteous, professional and took the time to explain things and answer any questions we had about any aspect of the work being done.The new driveway and sidewalk look great and they also graded and loamed the front yard to even it out so the yard and driveway now blend and merge perfectly!We were very impressed right from the start when Brian showed up at the agreed upon time to hear and see what we wanted and gave us the estimate very quickly. They actually got to do the job earlier than they had scheduled, showing up when they had said they would and were done in two days as promised and for the price we had agreed upon. And they left our site very clean at the end of the job!We have had many disappointing encounters with crews and companies who don't show up when they're supposed to, don't come through on estimates and don't take pride and responsibility for a job well done and to the customer's satisfaction.
Thankfully, those problems do NOT exist with REIS ASPHALT!
Name or Initials
Kate
City
North Dartmouth
Testimonial
We are happy we chose Reis Aphalt to pave our driveway and recommend them. They were very easy to work with – courteous, professional – and took the time to explain things well.
The driveway looks great. It is partly surrounded by a stone wall and they did a great job of bringing the asphalt up to that so it looks very neat. The other edges were nicely done with topsoil and seeded.They showed up when they said they would, charged what we'd agreed and actually did MORE than expected. Part of the lawn next to the driveway was in rough shape, and they leveled that off, filled it in with topsoil and seeded it.
Name or Initials
Anne
City
Marion
Testimonial
We all have our contractor horror stories. THIS IS NOT ONE OF THEM. It is very rare, that you work with a contractor where the process is easy, the people are friendly and accommodating, and the final price matches the proposal estimate.
All of that was true with Reis Asphalt and Landscaping.I called three companies to obtain bids for re-grading the land around my home, installing a new stone and concrete walkway, and installing a new driveway. After multiply calls to two of the companies with no return calls, I gave up getting those bids. It only took one call to Reis and a very pleasant conversation with Kristal that within days, Derek was at my door when he said he would be there. No waiting around for three hours hoping someone would turn up. Derek was there.Derek spent time with me talking about what I thought I wanted and what Derek would recommend. In the end, he submitted a proposal with multiple options for me to choose from and the pricing for each. I reviewed each and asked questions which were answered quickly.Once I decided on the direction I wanted to take, they arrived on Tuesday morning just as they said they would. I love to watch and ask questions along the way. Derek was very accommodating by taking the time to explain. I took all of Derek's suggestions and let my ideas go. I valued his expertise and knowledge and knew that if I let him do what he envisioned, I would be okay.Well in the end, I was more than okay. Derek's vision changed the curb appeal of my home dramatically. The workmanship was great. Derek and his crew were terrific – always pleasant and hard working.
This family owned business will be around for many years to come because of the quality service and expert knowledge that ensures happy customers.Thanks again for everything. Awesome job!Anne
Name or Initials
John & Nina Middleton
City
Mattapoisett
Testimonial
When we called Reis for an estimate on repaving our driveway we were promptly visited by Victor Reis who delivered a clear and timely proposal. The pricing was fair and we gave the go-ahead. The job was done on schedule and to specifications. The Reis crew was personable and professional, and the completed driveway is first-rate. We give Reis our unconditional recommendation.