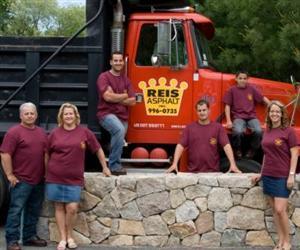 Natalie and Victor Reis started Reis Asphalt & Landscaping in 1986 after having over 20 years of combined experience. They are now joined by their hardworking children Derek, Brian, Alex and Kristal Reis and have over 100 years of combined experience.
Every step of the way, from your initial phone call to the completion of your project, you will notice a difference working with us. Each customer is valued and treated as such. Our team will work to ensure that you are satisfied with the finished product.
Reis Asphalt serves residents all over Southcoast Massachuestts, paving our way through Little Compton,, Westport, Freetown, Rochester, Marion, Mattapoisett, and everywhere around in between.

Our Crew
One of the Reis family members will estimate your project and be on the job site to ensure the is job accurately completed to the specifications discussed. This is the key to our success in providing quality workmanship.
Our customers are always amazed at the professionalism of our crew. Our team uses state-of-the-art equipment, combining new technology with years of practical experience to create quality results.
Our job sites run like clockwork without compromising quality. Every employee specializes in a specific role on job, giving them the opportunity to contribute their very best and produce a high-quality end result.  As a result of our efficient work flow, we set a schedule and we stick to it.
"We get the job done right…the first time" -Victor Reis

Call for a Consultation
Contact us today for more information or to set an appointment for a professional consultation. We will meet you at your home or business to view your project and property first hand. We will evaluate your needs and provide a complete solution, offering cost-effective recommendations and an honest estimate. CLICK HERE to use our online contact form or call us at 508-996-0735.